Upcoming events:
May 24: getting hair cut/highlighted after work
May 25: visit with the in laws, im assuming BBQ
May 26: friends with benefits get together (just me hanging out with my 3 besties-more than likely a lunch or dinner, or maybe a movie? yes a naughty name for it, but it is just for fun.)
May 27: official holiday, no work
May 31 9am: endocrinologist appointment
June 1: weigh in and measurement (start of new phase)
scheduled workout (May 21): 30 day shred level 1, dance central 3 and walk it out
actual workout: 30 day shred level 1, dance central 3 and walk it out. it was hot yesterday. i was sweating like crazy, but it felt good.
motivation percent: 25%, i counted out how many workout days i have left in may, 5!!! that isnt much.
total workout time since May 1: 1004 minutes and 42 seconds.
total calories burned: 7504
tonights workout: off
i have another pic to share.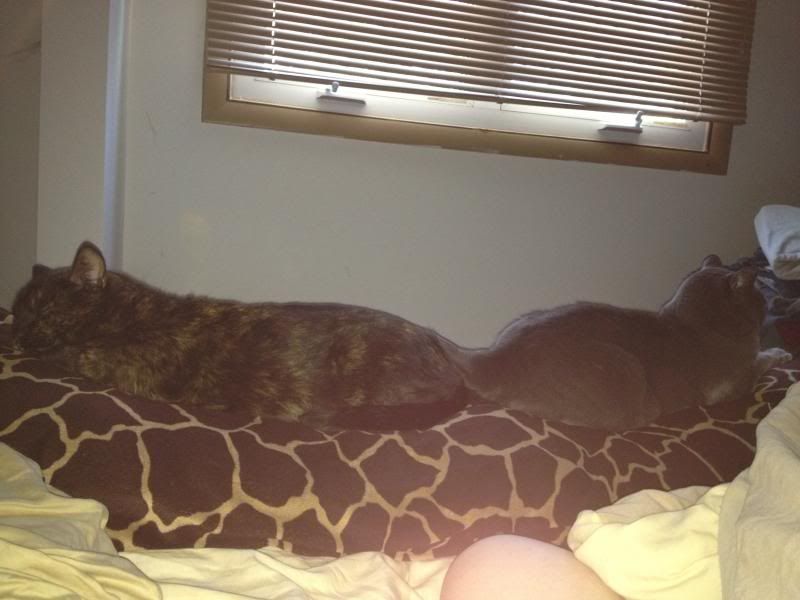 this is on my bed (that is my knee). on the body pillow is lilly and kreacher, kreacher is my cuddle bug, and lilly is not a fan of him. but he got his wish. his tail is on her. the only reason i think lilly is even in the same room with him is that it is hot right now, the only room in my house with AC in it is the bedroom. so its cooler in there than anywhere else.